IASA 2020 HOTEL INFORMATION for Pittsburgh Conference: November 5-7
Hampton Inn & Suites Pittsburgh-Downtown
1247 Smallman Street
Pittsburgh, Pennsylvania 15222
Tel: 1-412-288-4350
Guests who call (412-288-4350) to make their reservations will need to give the dates of their stay and mention that they are with the IASA group. This will ensure that they receive the group rate and are added into the group block.  
Guests are also able to make reservations online by using this link: 
https://hamptoninn.hilton.com/en/hp/groups/personalized/P/PITDNHX-IAS-20201105/index.jhtml?WT.mc_id=POG
This link will take guests to the reservation website which will allow them to book directly into the room block without having to call or enter any special code. 
All reservations will need to be made by midnight on Friday, October 8th. After this date the group rate will no longer be available. 
Mining the Diaspora: Italian-American Materialities, Archaeologies, and Intersections
The 53rd Annual IASA Pittsburgh Conference November 5-7, 2020
Mining the Diaspora: Italian-American Materialities, Archaeologies, and Intersections
Submission Deadline: Friday, May 1, 2020
Submit Here
The Italian American Studies Association (IASA formerly the American Italian Historical Association AIHA) celebrates its fifty-third year of academic inquiry into all things Italian and Italian American. We welcome independent thinkers, scholars, and academics, past and present, to participate in its annual conference.
The conference will focus on the intersections of local, glocal (characterized by both local and global considerations), and transnational settings, with particular emphasis on the connections, collaborations, and contestations that exist between and among Italians, Italian Americans, and other multi-ethnic and -racial groups. The conference aims to draw attention in equal measure to small cities, suburban areas, and rural enclaves, a broadened focus that will complement and enrich a field that has long trained its lens on the Italian-American experience in larger urban settings. Addressing this diverse demographic landscape, conference participants are invited to explore questions of materiality; belonging; the processes and products of oral and written family and community histories; labor communities, trajectories, and archaeologies of all kinds; material and digital expressions of these histories, communities, trajectories, and archives. Interventions may see these themes as interpreted through collections housed in historical societies, museums, universities, libraries, archives, homes, private collections, etc., or in virtual or digital forms.
All presenters, respondents, and discussants must be members in good standing of the Italian American Studies Association by September 1, 2020.
IASA encourages proposals in diverse formats, including round tables, debates, workshops, teaching sessions, and performances. In addition to individual paper proposals, we encourage the submission of abstracts and/or fully-formed sessions; we also encourage submission of individuals who would prefer to moderate or to comment. If this is your interest, please submit a CV and statement of areas of interest and expertise. We especially encourage interdisciplinary panels and roundtables that provide a structure for creating dialogue at the intersection of creative, social, and humanistic thought, and across diverse disciplinary fields and methodologies. The conference committee will consider proposals that do not specifically address but may complement this year's conference theme.
Organized panels should feature no more than three presenters, (or creative writers or artists, as the case may be) not including the chair and respondent. All presentations are limited to 15-20 minutes based upon the number of people on the panel. If you are willing to serve as chair, please indicate that willingness in your cover letter. This is separate from your presentation(s).
Guidelines for Proposals:
Sessions will be 75 minutes, and we will ask the presenter to limit her or his remarks to 15-20 minutes each, so there is ample time for Q&A and discussion. Proposals may be for one of three forms:
Individual presentation, paper, or talk.
Panel session or workshop, featuring multiple presenters.
Performance, reading, or screening of creative work.
Proposals should include:
Proposal title and a brief (250-word description)
Suggested topic category (see list above)
Brief biographical statement, affiliation, and e-mail
Technology needs, if any.
The conference interventions will gravitate around three main groups of keywords/phrases and their associated questions or problems:
Materiality of diaspora
archives: material, visual, digital-born, conceptual
artifacts, cultural production (broadly understood), and folk materiality
images: photographic, cinematic, and otherwise
oral histories, written personal histories, family histories
spaces and places, including structures, infrastructures, and negative spaces
community and institutional structures
commodities, marketplaces, and other transactional spaces
tools of the trade/s
philanthropy: its products, its structures, and its intersections with labor, cultural production, power structures, inter-ethnic dynamics
Archeology of labor
tools of the trade/s
infrastructure
labor narratives
labor activism
industry growth and decline
migrant/itinerant labor/ers
structures of labor power, internal and external to the community
science and technology
narratives of Italian-American identity as embedded and differentiated in urban, suburban, or rural landscapes
Ethnic intersections
Inter-ethnic marriage and other familial configurations
Labor sites (e.g., coal mines, steel mills) as sites of multi-ethnic and multi-racial collaboration and community
Structures of labor power, internal and external to the community
Cosmopolitanism and philanthropy that works across (elite?) ethnic and national groups
Multi-cultural neighborhoods
Commemorations and mappings of "little Italys" and other spaces identified with diasporic communities, whether currently visible or not
Italian-American flight (and white) in the aftermath of the Civil Rights movement
Keynote Speaker: Stefano Luconi
Bio: Stefano Luconi (Ph.D. in American Studies, University of Rome Tre, 1995) teaches U.S. History as well as History of North America in the Department of Historical and Geographical Sciences and the Ancient World at the University of Padua in Italy. He previously taught Contemporary History, U.S. History, History of North America, and History of the Americas at the Universities of Bologna-Forlì, Florence, Genoa, Pisa, Rome Tor Vergata, and Naples L'Orientale. His research interests focus primarily on U.S.-Italian relations as well as on Italian migration to the United States, with particular attention to Italian Americans' political experience and transformation of ethnic identity over the decades. His publications include From Paesani to White Ethnics: The Italian Experience in Philadelphia (Albany: State University of New York Press, 2001), The Italian-American Vote in Providence, Rhode Island, 1916-1948 (Madison, NJ: Fairleigh Dickinson University Press, 2004), and Le relazioni tra Italia e Stati Uniti: Dal Risorgimento alle conseguenze dell'11 settembre (Rome: Carocci, 2012), written with Lucia Ducci and Matteo Pretelli. He also edited, with Dennis Barone, Small Towns, Big Cities: The Urban Experience of Italian Americans (New York: American Italian Historical Association, 2010), with Mario Varricchio, Lontane da casa: Donne italiane e diaspora globale dall'inizio del Novecento a oggi (Turin: Accademia University Press, 2015), and, with Simone Battiston, Autopsia di un diritto politico: Il voto degli italiani all'estero nelle elezioni del 2018 (Turin: Accademia University Press, 2018). He serves on the editorial boards of Altreitalie, Forum Italicum, as wel as The Italian American Review, and is the book review co-editor for Altreitalie.
IASA 2020 Pittsburgh Conference: November 5 through November 7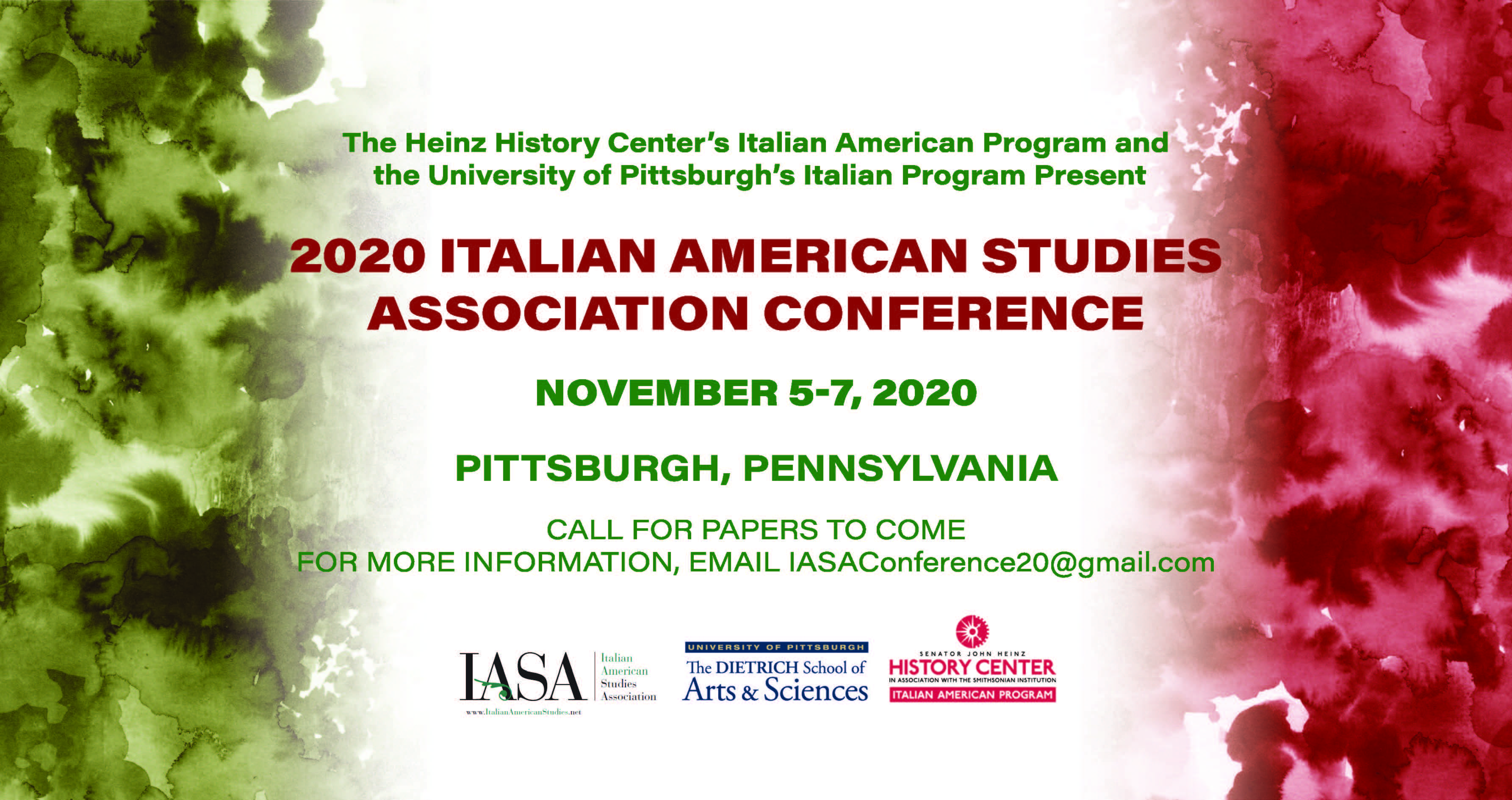 Key Dates & Registration
All presenters must register and be members of IASA for the year 2020; early registration is until  Sunday, September 27. On Monday, September 28, late registration will be $200.00
Late Registration Fee:
$200.00
Registration Fee:
$175.00
Adjunct Faculty Fee:
$75.00
Student Registration Fee:
$50.00
Farewell Banquet
Saturday, November 2:
TBD
Conference Dates:
November 5-7, 2020