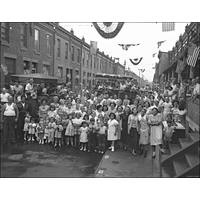 DigITALamericana: New Archives of an Invisible People
The Italian American Literature Forum is seeking panelists to present transmedia perspectives and projects (oral histories, photos, artifacts, home movies etc.) on the Italian American experience for its guaranteed session at the 2017 MLA Convention in Philadelphia.
As defined by Henry Jenkins, "Transmedia storytelling represents a process where integral elements of a fiction get dispersed systematically across multiple delivery channels for the purpose of creating a unified and coordinated entertainment experience. Ideally, each medium makes its own unique contribution to the unfolding of the story." Christine Weitbrecht further notes: "True transmedia narratives deliberately use the unique properties of each media platform to help the consumer experience the different parts and perspectives of a story in the most meaningful way possible."
This panel aims to bring together scholars utilizing transmedia and multimodal approaches to examine Italian American experiences and representations from its many and varied vernacular expressions in literature, cinema, art and material culture. The panel is particularly interested in investigations that draw from, build upon, construct, curate and remix diverse archives, both formal and personal, such as letters, newspaper clips, oral histories, songs, photos, artifacts, and home movies, and seeks to explore what innovations, tools, methods, and pedagogical practices can be used to create digital narratives and database that shed new light on Italian American life.
Send 300-word abstract and bio: Carla Simonini casimonini@ysu.edu by 3/15/16.
The Streets of Philadelphia: From Rocky to Creed.
The MLA Italian American Forum seeks paper proposals for a possible session at the MLA Annual Convention in Philadelphia, PA January 5-8, 2017.
Taking a cue from the presidential conference theme "Boundary Conditions," this panel seeks submissions that explore the boundaries of racism and ethnocentrism in the Rocky series. We are most interested in papers engaging with:
Italian American and African American masculinities;

South Philly as a multi-ethnic/racialized community;

Boxing rhetoric in the Rocky series; and

Gender stereotypes related to ethnic and racial constructions.
One-page CV and 250-word abstract to ncaronia@uri.edu by 3/15/16.
---