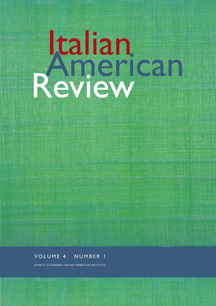 The Italian American Review (IAR), a journal of Italian American studies encompassing a range of professional concerns and theoretical orientations in social sciences and cultural studies, welcomes applications from qualified individuals with editorial and/or publishing experience for the position of Editor of the journal.
The IAR, a bi-annual, peer-reviewed journal of the John D. Calandra Italian American Institute, Queens College (City University of New York), publishes scholarly articles about the history and culture of Italian Americans as well as other aspects of the Italian diaspora. The current iteration of the journal commenced publication in 2011, when the Calandra Institute relaunched the IAR with an eye towards enhancing its scholarly rigor. The journal showcases writing on topics including migration, labor, race and ethnicity, gender studies, and the production of expressive culture (cinema, music, religious feasts), among others. The IAR publishes book reviews, film and digital media reviews, exhibition reviews, and occasionally "Notes and Documents." The IAR does not publish literary criticism or creative work such as poetry, fiction, or memoir.
The IAR is available online through EBSCO's "America: History and Life" database and is listed in the MLA Directory of Periodicals; back issues up to two calendar years previous can be accessed for free online at the Calandra Institute web site: http://qcpages.qc.cuny.edu/…/italia…/italian-american-review.
The Editor of the IAR is responsible for overseeing the entirety of the editorial and pre-production processes in conjunction with the Calandra Institute's in-house editorial staff, including:
1) Proactively soliciting articles from potential contributors.
2) Reading and assessing submissions for suitability of content, scholarly rigor, and quality of writing.
3) Facilitating the blind peer review and revision process.
4) Consulting with the journal's editorial board.
5) Acting as the communication link among contributors, review editors, and staff.
The Calandra Institute provides copy editing, subscription management, design, printing, mailing, and marketing of the journal.
Qualified candidates should be fluent in English, ready to work in a collaborative and collegial production environment, and efficient with time in order to meet production deadlines. Candidates should be well-versed in Italian American studies and active in recent and current research in that--or a closely related--field. The successful candidate should be a highly motivated person, devoted to the promotion of every aspect of the Journal's success, championing it whenever possible in appropriate scholarly venues. We are looking for a candidate with a vision for taking the journal to the next stage in its development and who has ideas about such areas as generating special topics issues, enhancing its online presence, etc.
The successful applicant will assume editorial duties for issue 7.1 of the IAR, beginning in January 2017. This is a three-year, non-compensated appointment.
Interested persons should email a letter of interest and a current CV to: IAR@qc.cuny.edu (subject heading "IAR Editor"). Related inquiries may be sent to the same email. Applications will be accepted until September 15, 2015, or until the position is filled. A committee of IAR advisory board members will review applications.
Please circulate.